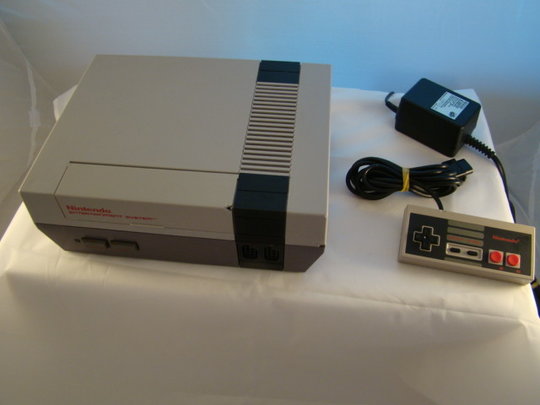 NINTENDO NES Console Used - 8 Bit Spel computer Gebruikt

Nintendo Entertainment Systeem Nes 8 Bit spelcomputer,

Dit nes 8 Bit systeem werd in 1983 door Nintendo uitgebracht
En werd door middel van een antenne aansluiting op de Televisie aan gesloten.
Kan ook met een rca-kabel worden aangesloten maar geeft alleen Mono geluid.

De Nes was de eerste uitgebrachte Family computer, door Super mario bross werd het een hit en verkocht deze Spelcomputer op de hele wereld.
Wie heeft er niet met Mario en Duck hunt als eerste op gespeeld.

Spellen als:
Mario Duck Hunt,
The legend of Zelda,
Teenage mutant Hero Turtles ,
Ninja Gaiden,
Final Fantasy
Mario
Dat zijn de eerste spellen die daardoor bekend werden..
Er zijn ook verschillende accessoires voor dit Systeem:
De Zapper, of te wel het Pistool voor de schietspellen,
R.O.B. de Robot die op kleuren reageerde.
Power Pad , Een mat waar je op staat om een game te spelen.
Controllers er waren er verschillende.
Game Genie om te cheatten bij een spel.
72 pins connector Nieuw.

Door de jaren heen zijn er vele van verkocht, en nu zijn het Retro computers en zijn er nog veel liefhebbers van dit Systeem.
Wij hebben op dit moment diverse Retro Nes computers.
1 controller,
Adapter,
Antenne aansluiting,
Pistool , Zapper, meerprijs.
Spel is meerprijs
Prijzen zijn vanaf,